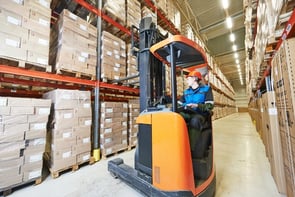 Product moves in and out of your warehouse daily, much like a choreographed dance. If just one part of the dance is not well-managed, the flow of the entire piece is interrupted. Putaway is a critical part of the dance in your warehouse space. When errors occur in the putaway process, all warehouse processes suffer as a result.
5 Common Putaway Errors and How to Avoid Them


Items are not put away in a timely manner.
As items are received, they need to be put away as quickly as possible in order to clear space for more incoming items and to have enough materials stocked on the shelves to fulfill incoming orders. If the putaway process is not efficiently managed or well-coordinated, it can not only slow down receiving, but also delay order fulfillment, hold up shipping, and cause congestion on the warehouse floor, making everything more difficult.

Solution: A modern warehouse management system (WMS) can seamlessly communicate with your ERP – or any other homegrown software – to expedite your receiving capabilities. In this way, incoming inventory will be more quickly inducted into the warehouse and become ready for putaway sooner.


Items are put in the wrong shelf or slot.
When your pickers are out on the floor, they expect to find particular items in particular spots. However, if the putaway team failed to put an item in the right location, the order being filled will either be filled with the wrong material or will remain incomplete until the item is found and/or new inventory arrives.

Solution: Prevent this efficiency hiccup from happening by following your warehouse management software instructions to store the item in a specific slot. The worker should always scan the barcode or RF tag on both the item and the slot to ensure accuracy.


Items are damaged in the putaway process.
Items are most often damaged when they are subjected to a lot of movement. Items left on the receiving dock for a prolonged period of time can be hit by forklifts or people walking by. These same items can be damaged in the putaway process if they have to be shifted around multiple times.

Solution: Following an efficient putaway process helps reduce the chance for mistakes and errors and in turn will decrease the possibility of damaging an item. Warehouse management systems not only provide easy and efficient receiving and putaway processes to follow, but the processes are also logistical and virtually error free.


Item locations are not tracked in the inventory tracking system.
Not tracking or making note of where material has been putaway forces you to rely on workers' knowledge and a fixed slot based on product number or type. This is a recipe for disaster. This kind of system can potentially work for very small operations; however, as operations grow larger and more complex, it will break down quickly.

Solution: A warehouse management system will track not only where the item is, but also how much of it is there, when it was put away, if (and where) it has been moved, et cetera. A warehouse management system, if it has real-time reporting, will always be up-to-date with all the information you could possibly need, meaning a worker should never have to go hunting to find what they need to fulfill an order.


Items are not counted before putaway.
When anything comes into the receiving dock, it should be counted to verify that everything on the purchase order was received. Then, it should be counted again as the worker puts it on the shelf. Knowing where something is is important, but knowing its location and the current quantity in stock is even more crucial.

Solution: Knowing the quantity of your products is essential, as it influences order fulfillment efficiency, inventory restock orders, and storage space management. Track real-time inventory counts via your WMS and capitalize on the other features of your warehouse management system that can also track the exact locations of every item within your warehouse.
To keep your warehouse operating efficiently, you need to make sure all processes are working as smoothly as possible. Putaway is as important as picking, receiving and shipping. Is your team making putaway errors that they should not be?