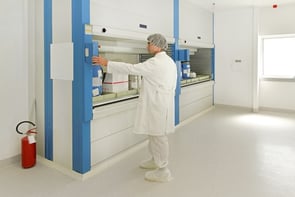 Warehouse carousels play a vital role in improving the warehouse efficiency and accuracy of order picking while also optimizing space and organization within the confines of any storage area. Many companies find that the addition of carousels to their warehouse opens up limitless potential for better picking processes and order fulfillment, which leads to lower labor costs, higher employee retention, and higher sales.
Space and Organization
Carousels offer a unique opportunity for you to double or triple your effective real estate space by allowing more bins and product to share a single square foot of physical ground. By putting items on a carousel system, they can rotate vertically or horizontally on multiple levels while remaining accessible to pickers. Organization is also improved by carousels, as there are more storage bins in various sizes available that can all be labeled and separated according to their contents.
Productivity and Efficiency
One of the biggest improvements that picking and stowing teams find with carousels is a vast improvement in their productivity and warehouse efficiency. Since pickers can stand in one location and have products brought to them, there is far less energy expended wandering up and down aisles trying to locate bins and products. It is possible to make huge improvements in productivity and employee satisfaction because the picking process becomes less stressful and more controlled.
Time and Accuracy
As any company grows, there is a tendency to demand more productivity out of the same group of employees. In many cases, as employees rush to meet higher standards, accuracy tends to suffer. Carousels actively combat this by allowing pickers to focus on just one set of bins and products that are directly in front of them. In addition, since bins will be better organized and labeled, there will be less chance for mix-ups. Since accuracy and efficiency have been improved, the actual time between customers placing an order and that order being shipped will steadily decrease, meaning your company can take on more product and make bigger sales. Customers who have a positive and timely shipping experience with you will be more likely to return in the future and spend more money.
Carousels provide you with the ability to take advantage of best practices in organizational warehousing and order fulfillment. Businesses who invest in carousels see strong returns on their investment as they can handle more orders in less time, and employees are under less strain to accomplish their picking tasks. By improving on space, productivity, and accuracy, the overall warehouse efficiency will see immediate benefits for the entire organization from top to bottom.