Implementing Automatic Storage and Retrieval Systems (AS/RS), or expanding your AS/RS capacity, offers great benefits to productivity—but with a meaningful upfront cost. Here we'll be looking at three common AS/RS modules: horizontal carousels, vertical carousels, and vertical lift modules (VLMs).
Each has particular advantages and disadvantages. You'll need to carefully examine your warehouse environment and business needs to determine what type works best for you. Some benefits apply to all three types of equipment though. "Since all of the modules bring the goods to the person, areas of the warehouse that were previously unused for material storage are now available," says Mike Banashak of AS/RS specialist Alternative Handling Technologies LLC. "This increased utilization of the cubic capacity of a building enables companies to increase their storage capacity without the need for building expansions. The work area is condensed and worker safety and ergonomics are improved."
Horizontal Carousel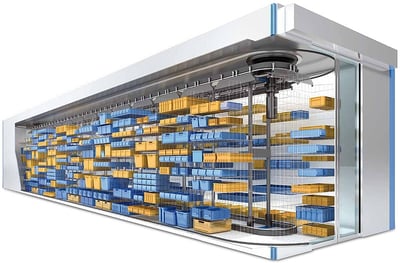 Horizontal carousels bring the goods to the worker. While each individual carousel may move slower than walking pace, they work best when two to four units are combined. As the number of lines in an order and orders in a batch increases, the distance to travel between each new item is reduced, and waiting time can be reduced to seconds for each item.
As the drive machinery is located inside the shelving, and adjustable shelf heights maximize the use of space, the footprint reduction can be significant. Racks are often left open but can be fenced off for security. The horizontal setup lends itself to low ceilings and large warehouse footprints; however, horizontal carousels can be stacked on top of each other to make use of vertical space.
Advantages:
High throughput

Very high pick rates

Great storage density

Faster than vertical

Most economical
Disadvantages:
Fixed pick heights

—

less ergonomic

Doesn't leverage vertical space, if available
Best for:
High depth of inventory

Small to medium heavy items

Large batch sizes and order numbers

Large areas

Low ceilings
Vertical Carousel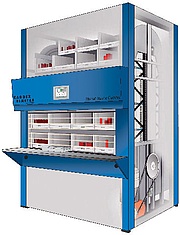 Vertical and horizontal carousels operate using similar machinery. The vertical carousel's main benefit is taking advantage of unused vertical space, resulting in an extremely small footprint—ideal when floor space is at a premium. As with horizontal carousels, positioning more than one unit together reduces picker wait times.
The "box" setup is both extremely secure and lends itself to control of the environment, maintaining a certain temperature or humidity level inside the unit. Vertical carousels have lower storage density than equivalent sized horizontal carousels, but smaller footprints.
Advantages
High throughput

Can be temperature or humidity controlled

Automatic security

Very small footprint

Ergonomic pick height
Disadvantages
Slower than horizontal

Items must be distributed to avoid unbalanced loads
Best for:
Heights up to 15-18 feet

Secure/controlled items

Items requiring climate control

Uniform bin sizes and shelf weights
Vertical Lift Module (VLM)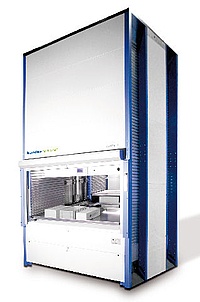 The most expensive of the bunch, VLMs are unparalleled for making the most of high ceilings and really packing the most storage into tiny footprints. As their drive machinery is smaller than an equivalent height vertical carousel, they can be built much higher. As with vertical carousels, the box setup offers high security and the capacity to control the climate within the unit.
The linear rather than rotating movement means no unbalanced loading problems and that heavy items can be stored and retreived safely. Units can have flexible tray heights, meaning many different sizes of items can be stored without compromising on overall storage density.
Advantages
High storage density

—

tiny footprint

Ergonomic pick height

Automatic security

Can be climate controlled
Disadvantages
Lower throughput

Lower pick rate

Most expensive
Best for:
Heights of up to 100 feet

Secure/controlled items

Items requiring climate control

Heavy items

Non-uniform sized items