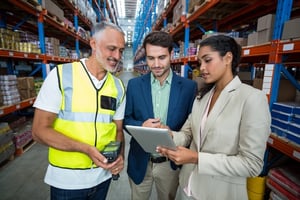 We have talked extensively about how choosing a Warehouse Management System can affect your team members on the floor. We've also talked about concepts like cost savings at length. However, this is the time to examine a few of the less common suggestions for choosing the perfect WMS for your business. Here are three considerations that you need to make before you finalize your decision:
Data Storage Systems - When it comes to assessing warehouse management software, it's important to consider how the software itself will be managed, not just how it will do the managing. You can choose between web-based storage systems that make your data accessible on mobile devices, and typically come with some form of cloud-based backup system, or you can choose a local storage solution which will require the use of servers in-house. Many companies choose the web-based solution because it is easier to maintain and comes with a smaller investment up front, but the downside is that you are now dependent on your internet connectivity to run your warehouse. Companies that have in-house IT resources often prefer to deploy their WMS on-site for precisely this reason.
Technical Support - Your warehouse management software is going to be the backbone of your operations for the foreseeable future. As such, you need to think of this as a partnership with your integration team and your developers. During the decision-making process, you need to ask pointed questions about what kind of ongoing support you will receive, such as software patches and updates, or virtual support teams ready to answer your questions.
Flexibility - Finally, you need to choose warehouse management software that is flexible enough to meet your changing needs. No business wants to grow stagnant, and you definitely don't want to invest in a system that will keep you from progressing and moving forward. Be sure that you are looking at not just how the software can work for you today, but how it will work for you down the road. Whether that means slowly rolling out departmental changes or reorganizing your workflow, the warehouse management software should be malleable enough to let you test new concepts, and it should be providing you with great feedback along the way so you can see how these changes are affecting your bottom line.
These three factors are often left out when companies first start shopping for warehouse management software. Cost considerations, employee friendliness and bonus features tend to take up much of the spotlight and leave these items on the fringe. It's important that you are making your decision based on the bigger picture.