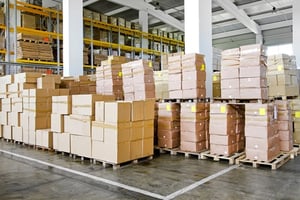 In an effort to cut any remaining fat from your warehouse operations and streamline your processes, the idea of forward staging some items may have arisen. This practice helps divert some items from the regular replenishment stream and saves you steps. It can also help you save space by keeping fewer products in shelf locations when they are headed right back out the door. But how efficient can this process really be?
What is Forward Staging
The term forward staging refers to the practice of creating a "forward" location within your warehouse where certain fast moving, high volume items can come in and out without having to go into the depths of your warehouse. In many cases, the forward location is on or adjacent to the shipping and receiving docks. Thus, when one of these fast moving items comes in, it can be automatically directed to the staging location where it will be sent right back out the door to customers or to another warehouse facility without having to stop and go through your entire put away and picking process.
When Forward Staging Helps
While forward staging can definitely help improve warehouse efficiency, not all warehouse operations are good candidates for the process. In general, for forward staging to be truly effective, your warehouse needs to be set up in a way that some products can be diverted to the staging area without having to travel through the warehouse. Not all warehouse layouts are well suited to this. In addition, you need to have some level of stability regarding which products will be diverted. If your warehouse is being used to transfer products between locations or to handle manufacturing, there may be some items that never need to go into deep storage at all. These are prime candidates for staging.
How Forward Staging Can Make A Difference
Forward staging helps improve warehouse efficiency in several areas. First, it means that your team will have to do less physical work carrying products to stock locations just to turn around and pull them back out. This minimizes travel and touch points which saves you plenty of time and money. In addition, forward staging also may help companies save on real estate. Since the products are not being stored, you need fewer open shelves from day to day. You can consolidate your storage space and take advantage of your dock space instead. With a more condensed warehouse your storage density goes up and your wasted space goes down.
Overall, forward staging is a more advanced means of reducing waste and improving warehouse efficiency. By pulling fast moving items out of your regular product stream and having them staged to ship back out right away, you increase product availability while lowering your operating expenses. The key to forward staging is ensuring that your warehouse is arranged in a way that is conducive to the staging area, and having the proper warehouse management systems in place to clearly define which products will be staged and which products will go into the regular warehouse path.