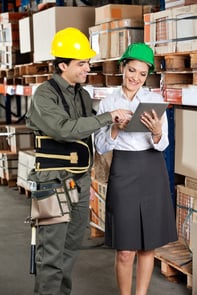 Zone picking is an advanced picking method that puts your warehouse management software to good use by allowing orders to be filled in a more efficient way. There are two basic types of zone picking in use today: simple zone-by-zone picking and concurrent zone picking with consolidation. Both types of zone picking greatly improve your efficiency in completing orders, but concurrent zone picking will completely change the way you do business.
Your Warehouse Layout
Depending on the types of products you sell, you may find that breaking your warehouse up into zones comes very naturally. For instance, small parts can have their own zone while larger components can be kept elsewhere. Bulk cases of product can be kept in a different zone from products packaged for retail. Your warehouse management software will allow you to assign these products to zones so that it can accurately dispatch the order to your picking team based on which zone they are working in.
Multi-Zone Picking
In simple zone picking, often called "pick and pass," a tote is assigned to the order, and the tote moves through one zone at a time until all of the items are picked. This may mean picking one item from Zone A and then sending the tote to Zone D for a second item and so on until there is nothing left to be picked. This system works because your employees can stay in one area and not have to waste steps or cross paths, thus eliminating downtime. However, a further improvement upon this process is dispatching the order to all relevant zones at the same time and having the picking team fill the different parts of the order simultaneously. Now the products from Zone A and Zone D can be picked at the same time using one tote in each area. Those totes are sent down to a consolidation area where they meet up.
Naturally, making this happen smoothly requires warehouse management software that can track the movements of multiple totes for each order and properly time each pick so that you don't have partial orders hanging out at in your consolidation area for very long.
Consolidation
While some feel that consolidation complicates the process or adds another step, the truth is that it actually offers a great opportunity for quality control. As all of the totes from an order come together, your consolidation team gets to look over the order one last time to ensure nothing was missed. Orders with only a single item, or only items from within one zone, will still flow freely to be packed and shipped, so only orders from multiple zones will be routed to consolidation.
Your warehouse management software was designed to help you maximize efficiency in every possible way. By choosing to use zone picking with consolidation, you are using the software to the best of its ability. Orders will move quickly through your warehouse as you have multiple team members picking for large orders at the same time, and your consolidation team can verify the accuracy of more complex orders, so you get fewer complaints and returns.