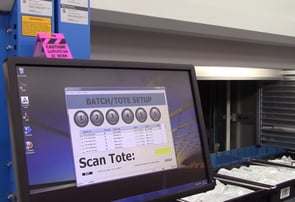 WaveTrak's warehouse management software was recently adopted by Whelen Engineering as a simple solution to their warehousing challenges. WaveTrak combines tighter inventory control with a simplified user interface that reduces walking distance between products and enables pickers to increase their hourly picking rate.
WaveTrak's top benefits include:
Inventory Tracking
Warehouse management software like WaveTrak was introduced to provide a uniform inventory tracking process. By assigning barcodes to individual items, bins, and orders, it was possible for the picking team to scan an item and get detailed information about exactly which bin location it was stored in. Whelen's warehouse manager reports that this has had huge implications for their first-in, first-out product rotation.


Less Foot Traffic
In the past, Whelen complained that pickers on the warehouse floor were constantly crossing one another's paths on their way to individual items that were separated across multiple aisles or floors. WaveTrak allows pickers to have a dedicated workspace where they are only pulling items that are located on their vertical lift modules (VLM). Whelen's team members were able to pick up to 300 more items per shift with only half as many staff members on the clock.


Improved Accuracy
As the organizational management improved with the new warehouse management software, it followed that overall order accuracy also increased at Whelen. WaveTrak eliminated the need for separate first-in, first-out tracking and ensured that product was efficiently rotating through the warehouse.


Increased Potential
On the back of all these improvements, WaveTrak also provides an analysis tool that helps management pinpoint problem areas on the floor and work toward creative solutions. Up-to-the-minute reports allowed managers to see exactly how their team was performing on a live basis.


Directed Picking
WaveTrak's warehouse management software integrates with the Pick Light system on the conveyor. As the vertical lift modules rotate into position, lights on the conveyor illuminate the orders that require parts from those specific bins on the lift. It also tells the picker how many of each part is required to fill the orders that have been illuminated. This means that pickers can work on filling up to six orders at one time with the same accuracy as if they were only working one order. This system also means that the VLM is only rotating after everything has been pulled from each shelf, preventing pickers from having to back track to products they have already picked.
WaveTrak is the premier warehouse management software that has proven results for Whelen Engineering by updating all of their inventory tracking systems, optimizing their labor, and unlocking limitless potential. By taking the guesswork out of product placement and tracking, operational efficiency skyrocketed almost overnight.