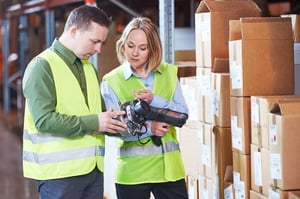 No two warehouses operate in exactly the same way. There are different levels of complexity depending on whether you're shipping items or building them. The type of technology you have in place can also affect the complexity of your system.
Furthermore, regulations for certain industries add another layer of challenges. So what is it that makes one Warehouse Management System better than the others when it comes to handling very complex organizations?
WMS Customization
One of the most important features that companies are looking for today is customization of their new Warehouse Management System. By customizing the user interface and the reporting features, companies are able to take better advantage of the systems they are paying for. Systems that do not allow customization often experience poor rollouts and don't gain much buy-in from employees along the way.
Great User Experience
Just because the Warehouse Management System is handling a lot of information behind the scenes doesn't mean that it has to be intimidating to the user. The very best WMS products today offer a simplified dashboard that makes information retrieval easy and stress free. User experience and interfacing have become hot topics as we seek more fool proof ways to address warehousing challenges in extremely complex environments.
Modular Capabilities
Another important aspect of coping with complexity is being able to break the system down into modular parts that can be added or subtracted as necessary. This offers companies freedom to scale up or down with time, without missing key functions along the way. A system that cannot grow with the company does not meet the minimum needs of a complex organization.
Real Time Electronic Reporting
Finally, an area where many companies spend a fortune and end up losing out is with manual reports. New Warehouse Management Systems are capable of providing up to the minute electronic reports over the air. This means that everyone has access to the information they need without lost papers and huge overhead costs. The move to paperless systems has made these WMSs highly efficient all around.
These are just four of the features that come to mind when we talk about whether a WMS is right for your warehouse. No matter what kind of challenges your organization is facing, having a robust WMS as the backbone of your operation can go a long way toward reducing the complexities of day to day business. From the moment you log in to the system until you leave at the end of the day, your Warehouse Management System should offer simple, seamless solutions.