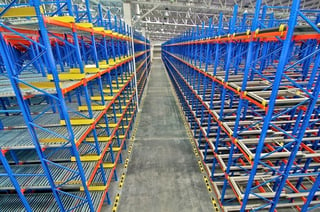 What do you do when your product catalog is expanding, but your warehouse remains the same size? Many companies immediately begin looking for a larger warehouse or plan on building out a second building on their site to accommodate the new products. We're here to tell you that building up may be far more economical than building out. Here's why:
Are You Using Your Vertical Space Well?
Many companies move into warehouses that were not built specifically for them. They fill the space with standard-sized shelving and try to keep all of their products close to ground level to make things easier on pickers. The problem is there are usually many feet of space above those shelves that remains empty. If you're already paying for this real estate, why would you want to pay more for a second space? A one-time investment in taller racks or vertical lift modules could take advantage of the untapped potential already in your hands.
How Will Picking/Replenishment be Affected?
Many companies believe that taller shelves mean more complicated replenishment and picking processes, which add to labor and reduce warehouse productivity. In reality, they can actually help you cut down on wasted steps by shortening the picking path and only keeping as much product as you need at ground level. This could speed up warehouse productivity and help you ship more orders rather than less. In addition, vertical lift modules make it possible to bring products to your pickers instead of sending your pickers to the goods. This makes their jobs far easier and more efficient.
Adding Support to Vertical Space
Even if you only use your newfound vertical space for storing smaller products, the use of an automated storage and retrieval system (ASRS) is a great investment. The ASRS allows items to be shuttled to and from storage locations without the help of lift trucks. The result is that you can put more material in your vertical space as well as maximizing your horizontal space without taking a hit to warehouse productivity at all.
Over the long term, you should be considering whether it makes more sense to build up or out. What does it cost to maximize the use of your existing vertical space compared to the cost of building, maintaining and staffing a second building or an expanded building over the next ten years? Will you receive an adequate ROI by shortening your picking path and upgrading your replenishment systems? These are the questions that really prove the viability of building up not out.