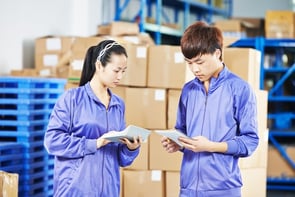 The right warehouse management systems (WMS) will improve the way your operation runs from start to finish by gathering all available data about how you bring parts in, where to store them, and the available labor needed to get the job done. Choosing the right warehouse management system for you will mean finding a program that can integrate well with your existing equipment, can be easily implemented with quick training, and will provide you with enough information about your ongoing processes to make informed decisions.
Custom Fit
One thing that many warehouses struggle with is adapting warehouse management systems to their existing layout and equipment. WMS can now differentiate between different storage spaces like racks and shelves while also integrating with warehouse equipment such as carousels, vertical lift modules (VLM), and conveyors. WMS can also take into account the size of each storage location and determine the best fit for your products. While you are shopping for a new WMS, take the time to see if the program can be customized for your specific structure and how difficult it is to make changes if you ever decide to upgrade to new lifts or other equipment.
Simple Rollout
In general, implementing warehouse management systems is done in stages, rolled out over a period of several months. During this time, your team will be trained and have time to engage with the software and test it out. You should be looking for a program that is both intuitive and easy to learn, and a company that has designed plenty of learning tools to help bring your team on board promptly. The easier it is for you to learn the functions, the smoother your transition will be.
Data Accuracy
With all the constant activity going on in your warehouse, it is imperative that your WMS have adequate checks and balances in place to maintain the accuracy of the data that you are depending on. Many companies are so focused on how the individual tasks within the warehouse change that they fail to consider whether or not the WMS will actually stay accurate over time. Fortunately, there are systematic verification steps that should be included with your software to prove that it works long-term and not just when it is first implemented. Shop with long-term success in mind and look for indicators that the system maintains itself and won't become out of date over time.
By integrating with the resources you already have on hand in your warehouse, warehouse management systems can better organize your efforts and improve your order fulfillment process. Finding the right match for your company means getting down to the fine details of how the WMS works with your current setup, what it tracks, and how well it can be trusted to maintain data accuracy in the future. The perfect system is one that simplifies processes instead of complicating them, and your team should feel confident in their ability to master the functions of the program quickly.